HYPE helps online university SoftUni redesign their educational platform for growth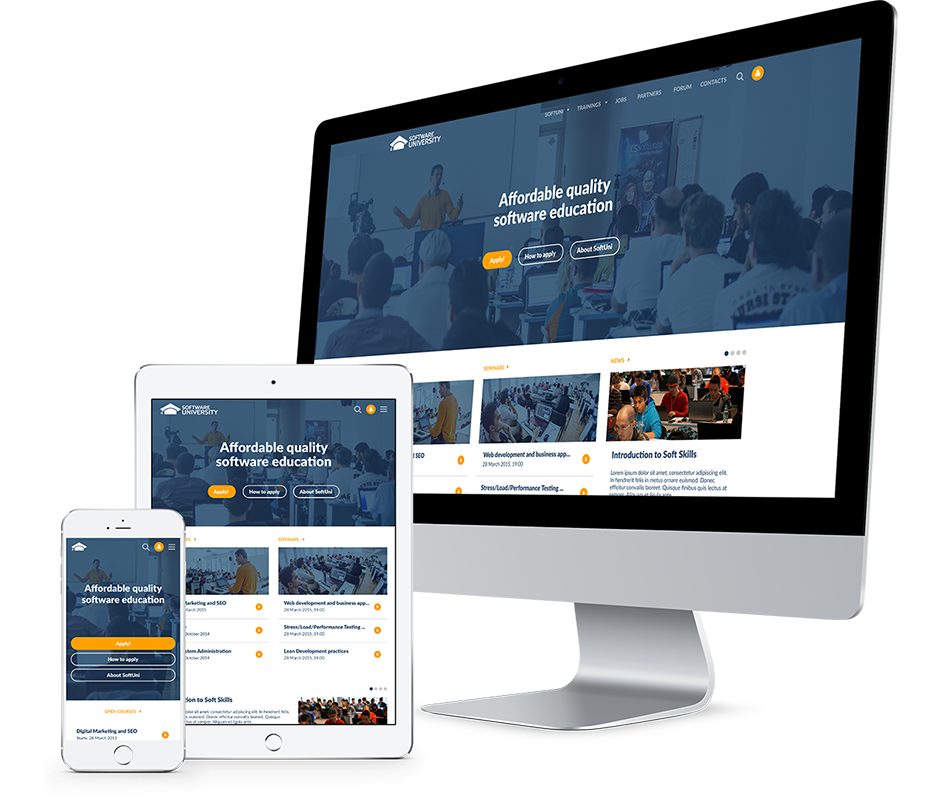 Client
Software University is a modern education center for development specialists, which is constantly growing. It is training over 10,000 specialists each year. A clear indicator for their success are the several awards which they've won over the last year in the education area, including best educational platform from BWA (Bulgarian Web Awards).
Challenge
The fast growth of the user base and quantity of information within the website required a redesign of the user experience. In addition, SoftUni wanted to refresh their brand to communicate a consistent, professional and trustable look.
Solution
After performing qualitative research with over 1000 users of the platform we create a new responsive versions which addressed all functional and information needs that were important to students. In addition, we revamped the company branding to convey its modern values and increase trustworthiness.
Discovery
The first part of each solution is always to define the problem. As mentioned, the fast growth required a simplified user experience, which to cover all students needs. However, what does "simplified" mean? We've made a survey with over a 1000 students to collect their feedback and to define their pains and needs with the current website.
Together with the SoftUni team, we managed to capture the feedback of the regular users of the platform and agree on the most important areas to improve.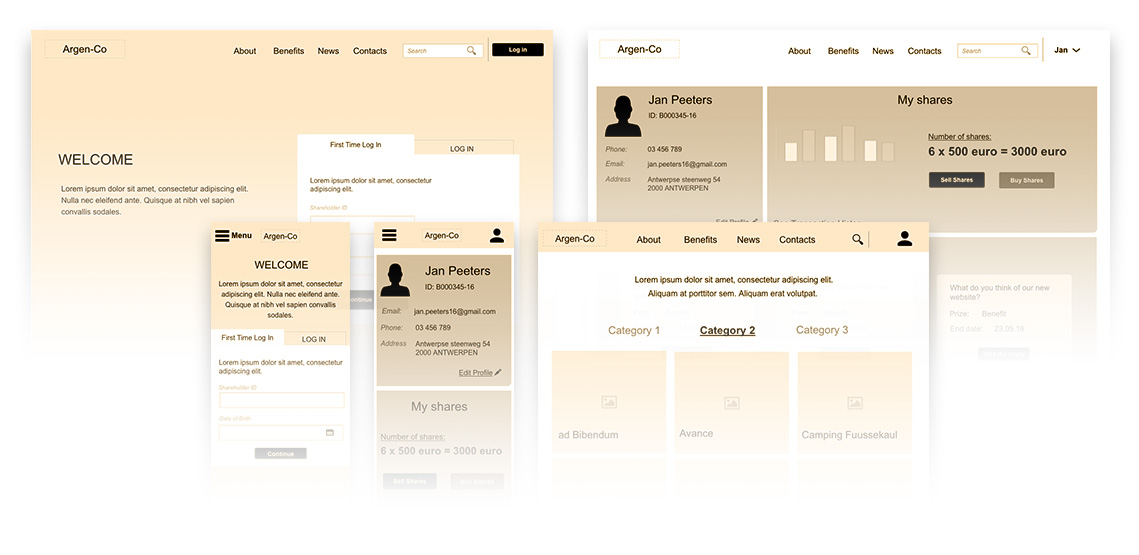 Responsive Website Designs
After analyzing the main pains and needs of the users in the website, we started the redesigning the website. The main goal was to shorten the distance between students and university and to have a single place, where the users are able to check the different programs, events and materials from their courses. As this information is constantly updated, we focused on the responsive versions of the website as students are always on the go and we anticipated that they would use their mobile phones to access course information.
Before starting the visual design, we developed on the architecture of the site. We've wireframed the 3 different versions of the site – for PC, Tablet and Mobile phone in order to decide how to re-organize the different information within the site on the different devices, based on the user needs.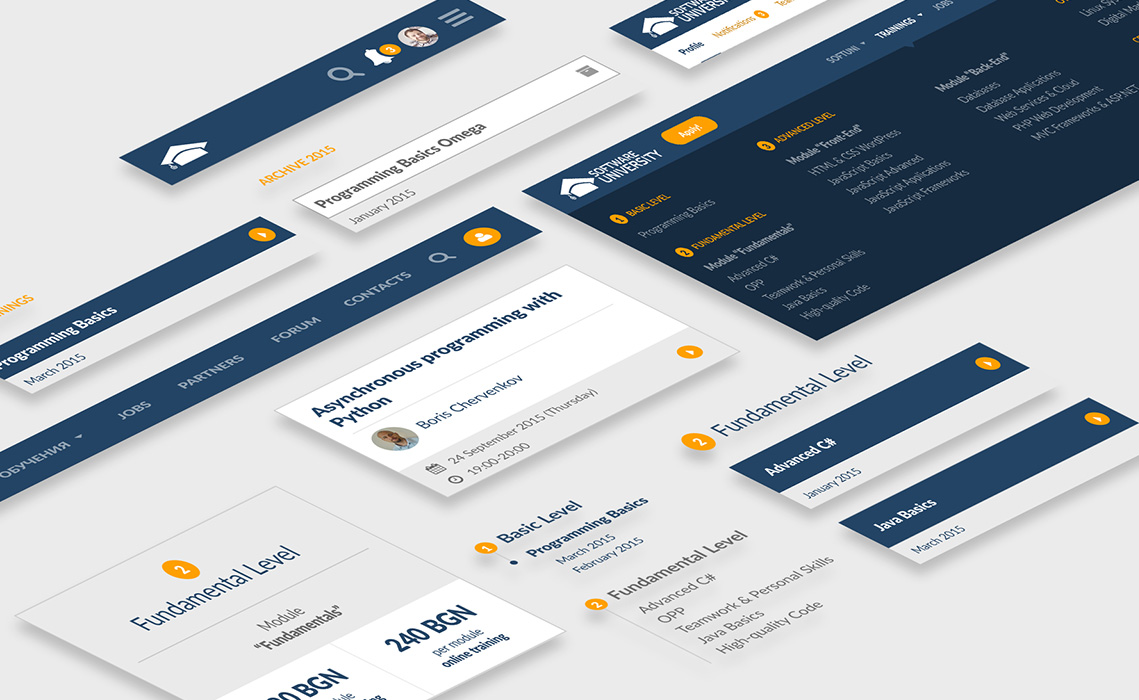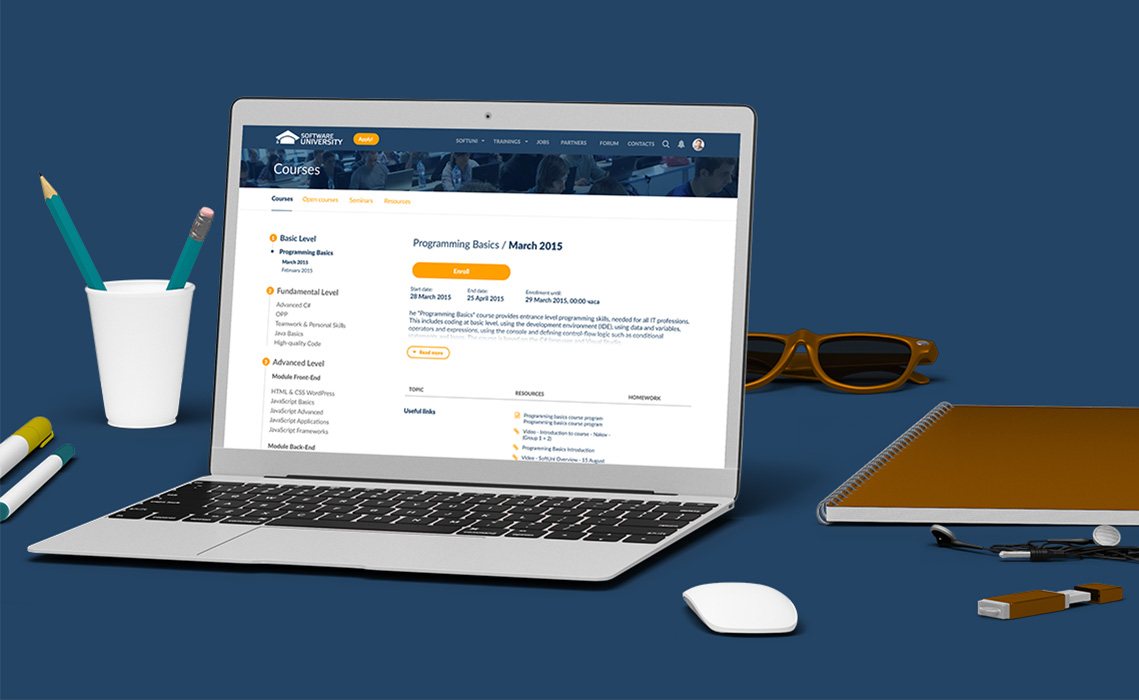 Branding
We started the process by identifying and deciding on the main recognizable brand elements from their existing brand. Then we refreshed the logo so it reflects the modern look and feel SoftUni was aiming for.
We redesigned all corporate materials, like business cards, different flyers, certificates and diplomas, folders, rollup banners and billboards. To shorten the distance between university and student we produced videos and photos from the education process and added them to the website.